Energy And Pollution Woes Need Urgent Attention In China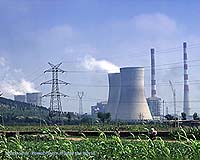 The Chinese government had set a five-year goal of reducing energy consumption per unit of gross domestic product by 20 percent by 2010, but has fallen far short of its goals as the economy roared ahead last year at 10.7 percent.
by Staff Writers

Beijing (AFP) July 10, 2007

China's Premier Wen Jiabao has reiterated that China needs to urgently face the challenges of climate change by curtailing its polluting inefficiencies, a government statement said Tuesday. "Cutting energy consumption and pollutant emissions and dealing with climate change are urgent, critically important tasks," Wen said in remarks posted on the central government's website.
Wen was speaking Monday at the inaugural meeting of a high-level task force set up to research China's response to climate change, the statement said.
The task force has been charged with setting and implementing policy to address global warming and the nation's worsening environment, the statement said.
No concrete initiatives were put forward at the meeting, according to the statement. Read More