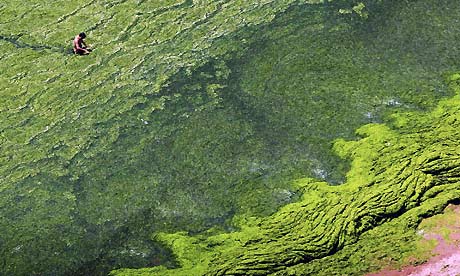 Right: Scientists have suggested creating areas of oceanic algae to absorb carbon dioxide. Photograph: Associated Press

•Geo-engineering 'better than doing nothing'
·
•Fake clouds among ideas in Royal Society papers
Political inaction on global warming has become so dire that nations must now consider extreme technical solutions - such as blocking out the sun - to address catastrophic temperature rises, scientists from around the world warn today.
The experts say a reluctance "at virtually all levels" to address soaring greenhouse gas emissions means carbon dioxide levels in the atmosphere are on track to pass 650 parts-per-million (ppm), which could bring an average global temperature rise of 4C. They call for more research on geo-engineering options to cool the Earth, such as dumping massive quantities of iron into oceans to boost plankton growth, and seeding artificial clouds over oceans to reflect sunlight back into space.
Writing the introduction to a special collection of scientific papers on the subject, published today by the Royal Society, Brian Launder of the University of Manchester and Michael Thompson of the University of Cambridge say: "While such geoscale interventions may be risky, the time may well come when they are accepted as less risky than doing nothing."
They add: "There is increasingly the sense that governments are failing to come to grips with the urgency of setting in place measures that will assuredly lead to our planet reaching a safe equilibrium."
More >>>