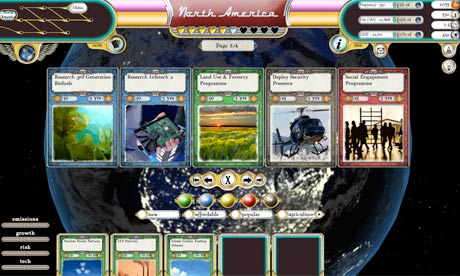 Fate of the World, a new strategy game launched on Tuesday, could reach new audiences, say green campaigners.
They've previously tackled alien invasions, gang violence in New York and how to raise a happy family, but this week computer games wrestle with an even more pressing issue: climate change.
Arriving on PCs on Tuesday and Macs shortly after, the British-madeFate of the World puts players at the helm of a future World Trade Organisation-style environmental body with a task of saving the world by cutting carbon emissions or damning it by letting soaring temperatures wreak havoc through floods, droughts and fires.
The strategy game is already being hailed by gaming experts as a potential breakthrough for such social change titles, and welcomed by climate campaigners as a way of reaching new audiences.
More >>>