Rio 2012: it's a make-or-break summit. Just like they told us at Rio 1992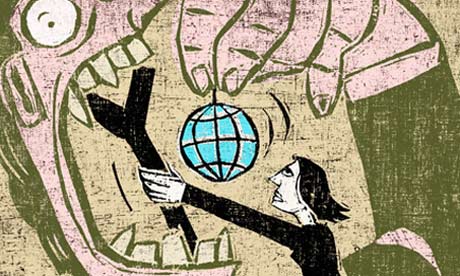 World leaders at Earth summits seem more interested in protecting the interests of plutocratic elites than our environment

Worn down by hope. That's the predicament of those who have sought to defend the earth's living systems. Every time governments meet to discuss the environmental crisis, we are told that this is the "make or break summit", on which the future of the world depends. The talks might have failed before, but this time the light of reason will descend upon the world.
'To see Obama backtracking on the commitments made by Bush the elder 20 years ago is to see the extent to which a tiny group of plutocrats has asserted its grip on policy.' Illustration above by Daniel Pudles
We know it's rubbish, but we allow our hopes to be raised, only to witness 190 nations arguing through the night over the use of the subjunctive in paragraph 286. We know that at the end of this process the UN secretary general, whose job obliges him to talk nonsense in an impressive number of languages, will explain that the unresolved issues (namely all of them) will be settled at next year's summit. Yet still we hope for something better.
This week's earth summit in Rio de Janeiro
is a ghost of the glad, confident meeting 20 years ago. By now, the leaders who gathered in the same city in 1992 told us, the world's environmental problems were to have been solved. But all they have generated is more meetings, which will continue until the delegates, surrounded by rising waters, have eaten the last rare dove, exquisitely presented with an olive leaf roulade. The biosphere that world leaders promised to protect is in a far worse state than it was 20 years ago. Is it not time to recognise that they have failed?
If world governments do not have the vision, the foresight and the compassion to do the right thing, then it is up to us, the People, to bring about change, and if change means a change of government, so be it. This is about a planetary emergency, about a decent life for our children, about our childrens survival. Editor